LJT Lawyers at the 2018 edition of the IRCM Challenge
May 26th, 2018
Publications
A healthy mind in a healthy body! For a 4th consecutive year, the team at LJT Avocats Lawyers partnered up with the Fondation de l'IRCM for a cause close to our hearts, rising to the IRCM Challenge.
The event took place on Mont Royal and was composed of 34 runners and walkers. Congratulations to all the participants who contributed, see you at the 2019 edition!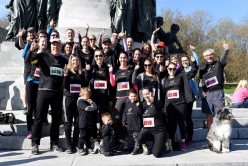 LJT Lawyers team at the 2018 edition of the IRCM Challenge.